SWIMFIT SWIM SPAS
The promotional Savings Event is on now.
Save up to $3,500 on an in-stock model.
*Participating retailers only
THE SWIMFIT COLLECTION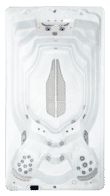 The SwimFit is the perfect mini pool for you and your family. At 14 feet long, the SwimStream swim spa is equipped with two high-volume swim jets, adjustable for speed and pressure, a wide swim lane with non-slip surfaces, and two great therapy seats for an after-play massage, plus a ClearStream Filtration System. Enjoy an optional lighting package for the ultimate play experience.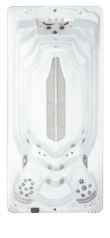 The AquaStream Swim Spa is a 17-foot mini-pool that delivers the most flexibility, fun and benefits for the whole family. This Swimming pool has all the exercise features of the SwimStream with a larger swim area. The AquaStream is a family pool that has everything your backyard exercise and entertainment center needs.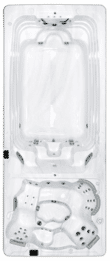 The 19 Foot Dual Temperature Dual Stream Swim Spa features an exercise spa, built-in stairs and an attached 5-person hot tub with 30 jets and separate controls. Set the temperature to 84 degrees in the exercise area for swimming or water aerobics, and set the hot tub to 100 degrees for unsurpassed family fun and relaxation. It's the ultimate combination of exercise and pleasure.
THE IDEAL UNIVERSAL AQUATIC GYM
With a generous streamlined swim tank area and a flat, ergonomically designed anti-slip floor, a SwimFit swim spa provides the opportunity for various fitness exercises. By creating the ideal training environment with a fully adjustable current, you can control your workout intensity with ease. Additionally, the swim spa is a safe and easy environment to teach kids how to swim.
WHY BUY A SWIMFIT SWIM SPA
Designed with the whole family in mind, the SwimFit is perfect for exercising, playing, swimming and relaxing. These swim spas set the scene for versatility at their finest and provide the perfect space and settings that the whole family can enjoy. We're sure you'll find one that perfectly suits your space, preferences, and needs. Our SwimFit swim spas require minimal maintenance and are easy to install, and because of their compact design and construction, they can be used any time of the year. Whether you're looking for a space for your loved ones to play or would like the perfect at-home gym experience, these swim spas do it all. With the various exercise opportunities available through our SwimFit spas, you can work out at whatever level or intensity you desire. Simply change the jet settings, and begin working out as you please. A swim spa with unmatched versatility, the SwimFit spa is made for the whole family to benefit from.
FIND YOUR PERFECT SWIM SPA
In a few simple steps, we will show you the ideal swim spa for you!
SWIM SPA vs POOL
Although many similarities can be found between a swim spa and a pool, there are also notable differences. Swim spas are referred to as "the best of both worlds" because they combine the benefits of both pools and hot tubs. They can also be used year-round, while pools are typically enjoyed about 180 days of the year. Another important difference is the cost of running a swim spa versus a pool, as its technology allows a swim spa to run at a much lower cost long-term. It's important to keep in mind that while swim spas run at a higher temperature than a pool, they are actually a fraction of the cost to run because of their size and design. Both a pool and swim spa set the scene for families to play, swim and exercise. However, while you would generally swim laps in a pool, a swim spa allows you to swim in place with its advanced jet technology. And whether you're using them for swimming or working out, you can relax and unwind after your exercise as the massage jets melt away tension and pain. Overall, swim spas provide many incredible physical and mental health benefits. Whether you spend time in a swim spa or a pool, you are actively working towards improving your overall wellness. With that said, because of their versatility and compact design, swim spas have become more prevalent in recent years and are adored by many.
SHOP OUR OTHER GREAT COLLECTIONS
SWIMEXPERT COLLECTION
The Expert Collection is SwimLife's perfect all-season pool. It does not raise the bar; it sets the bar with plenty of standard features! Included with every Model is a pair of FORM Goggles with a heads-up display, which offers real-time feedback and analysis of your swim and exercise routine.
VIEW COLLECTION
PLAYSTREAM
The SwimFun is the perfect mini pool for you and your family! Ideal for both fun and exercise, the 12 ft. SwimFun will help you get active and stay fit while providing the perfect space for the entire family to enjoy. This spa is the ultimate life of the party with plenty of fun for everyone, young and old.
VIEW COLLECTION