SWIMEXPERT SWIM SPAS
The promotional Savings Event is on now.
Save up to $3,500 on an in-stock model.
*Participating retailers only
THE SWIMEXPERT COLLECTION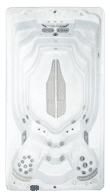 The SwimFit is the perfect mini pool for you and your family. AT 14 feet long, the SwimStream swim spa is equipped with two high-volume swim jets, adjustable for speed and pressure, a wide swim lane with non-slip surfaces, and two great therapy seats for an after-play massage, plus a ClearStream Filtration System. Enjoy an optional lighting package for the ultimate play experience!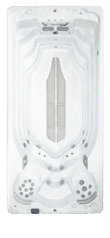 The AquaStream Swim Spa is a 17-foot mini-pool that delivers the most flexibility, fun and benefits for the whole family. This Swimming pool has all the exercise features of the SwimStream with a larger swim area. The AquaStream is a family pool that has everything your backyard exercise and entertainment center needs.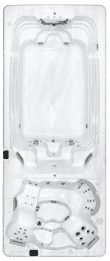 The 19 Foot Dual Temperature Dual Stream Swim Spa features an exercise spa, built-in stairs and an attached 5-person hot tub with 30 jets and separate controls. Set the temperature to 84 degrees in the exercise area for swimming or water aerobics, and set the hot tub to 100 degrees for unsurpassed family fun and relaxation. It's the ultimate combination of exercise and pleasure.
EXPERIENCE AN EXTRAORDINARY SWIM
Designed to provide the perfect swim, our spas allow you to do so with ease. The swim current created by our advanced jet technology lets you practice swimming at any level you feel most comfortable. Rather than pushing off walls or doing laps, swim spas allow you to swim in place without the need for a tether. A continuous swim current sets the scene for fluid, uninterrupted movement at any level of intensity. Perfect for beginners or expert swimmers at any age.
WHY BUY A SWIMEXPERT SWIM SPA
Designed and created with the swimmer in mind, strategically navigate through performance settings with ease and get the perfect swim every time. You can be sure to find the right one to fit your space, preferences and needs. Requiring minimal maintenance and easy installation, these spas are made to be enjoyed year-round. Looking to train at a more intense dash or ease into it with a leisurely swim? With nothing more than the jet technology and your momentum in the water, you will get an extraordinary swim without doing laps or using a tether. Regardless of the level you set your SwimExpert spa; you can customize it to create the perfect swim every time.
FIND YOUR PERFECT SWIM SPA
In a few simple steps, we will show you the ideal swim spa for you!
SWIM SPA vs POOL
While there are many similarities between a swim spa and a pool, there are also a handful of important differences to note. Known as "the best of both worlds," swim spas provide the benefits of both a pool and hot tub in one compact unit that can be used year-round. While a pool can only be used 180 days out of the year, you can enjoy a swim spa all 365 days. Living in a climate like Canada, where snowy winters are expected, having access to a swim spa means enjoying it regardless of the weather. Another important distinction to note is the cost of running a swim spa versus a pool. With the advanced eco-friendly design of a swim spa, they can run at significantly less regardless of the season. In fact, swim spas can function at higher temperatures at a fraction of the cost because of their compact size and thoughtful construction. Both options provide excellent opportunities to play, swim and enjoy time with family and friends. While you would traditionally swim laps in a pool, a swim spa's jet technology allows you to swim in place. The same jets also set the scene for various opportunities to exercise and play, and at the end of it all, relax and unwind. The massage jets provide endless benefits of their own, including relief of aches and pains and overall improved mental and physical health. While spending time in either will offer excellent benefits, the swim spa's smaller, more versatile design makes them well-loved by many.
SHOP OUR OTHER GREAT COLLECTIONS
SWIMFIT COLLECTION
The SwimFit Collection is perfect for both experienced swimmers and beginners. A generous streamlined swim tank and a flat anti-slip floor allow for various fitness exercises. In addition, you can also easily control your workout intensity to create your ideal training environment with a fully adjustable current.
VIEW COLLECTION
PLAYSTREAM COLLECTION
The SwimFun is the perfect mini pool for you and your family! Ideal for both fun and exercise, the 12 ft. SwimFun will help you get active and stay fit while providing the perfect space for the entire family to enjoy. This spa is the ultimate life of the party with plenty of fun for everyone, young and old.
VIEW COLLECTION