Swim spas are a great alternative for swimming fanatics who don't have enough room on their property for a full-sized swimming pool or lap pool. The compact size of the swim spa makes them much easier to fit into smaller spaces. And because many of today's swim spas are completely self-contained units, they can be installed and be up and running within a day. When planning the installation of a swim spa, it's only natural to question how soon you'll be able to use it. A keen swimmer will probably ask, "When can I start using it?" Once installed, a better question to ask might be, "How long does it take to heat a
swim spa
? To help answer these questions and more we've put together an article explaining the basics.
How Long Does It Take To Heat A Swim Spa?
There are many factors that play a role in the amount of time it takes to heat up a swim spa. The size of the swim spa, the location in which it's installed, the initial temperature of the water, the power of the water heater, and whether you're using a cover all play a part in how fast the water will be heated. We'll go into each of these factors with a little more detail to help narrow down an answer.
Location
Where your swim spa is installed is probably the main factor affecting the speed of heating up your water. For instance, a swim spa that's installed indoors will very likely heat up faster than one that's exposed to the elements. If you're heating your swim spa in cold weather or overnight, an indoor installation will definitely heat up faster than an outdoor model. For outdoor swim spas, the location will play an even larger factor in the speed of heating. A swim spa that sits in a sunny spot will obviously heat faster than one in the shade. And protecting your swim spa from wind can also decrease the water heating time. Some people nestle their outdoor swim spa in a naturally protected area of the yard, whereas others will use windscreens and baffles to create a more comfortable environment.
Size
It only stands to reason that it will take a larger amount of water longer to heat than a smaller amount. The heating time differences between the smallest and largest swim spas may not be that radically different, but it may take a couple of hours longer for the larger volume of water.
Initial Water Temperature
Your starting point will also affect the amount of time it takes to heat the water to a comfortable temperature. If you've already been using the swim spa and have simply left it in hibernation mode for a couple of days, it'll take much less time to heat it back up again compared to if you just filled the swim spa with a garden hose. If you have the option, filling your swim spa with warm water will allow you to comfortably use it immediately.
Water Heater Power
A more powerful water heater will get the water up to temperature much faster. If you don't plan on using your swim spa on a daily basis, it might be a good idea to invest in a more powerful water heater so you don't have to wait as long for the water to heat up when you finally do want to use it. On the other hand, if you frequently use your swim spa, the temperature won't have as much time to fall between uses.
Swim Spa Cover
Using a swim spa cover while the water is heating will definitely speed things up. While swim spa covers have many different functions ranging from safety to water cleanliness, they also provide an insulating barrier that retains water heat. By replacing the cover whenever the swim spa isn't being used, you'll cut down on the amount of time your water heater runs.
So How Long Does It Take?
If you were trying to come up with the average amount of time it takes to heat up a swim spa, you're looking at around eight to ten hours. This assumes starting with cold tap water, using a cover and room temperature surroundings. To learn more about setting up a swim spa, download a free buyer's guide today.
SWIM SPA
GUIDE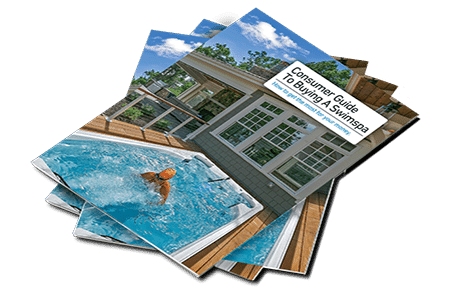 Whether it's staying active, defying stress, or combating pain, your SwimLife Swim Spa can and will help you be your best self. To help with your planning, explore our guide to assist your purchasing journey. Go a little deeper into the specs, and explore all the features and conditioning benefits of our Swim Spas. Swimlife, This is The Life!