For those who love swimming, but don't have enough room for a full sized swimming pool,
swim spas
are a convenient alternative. Allowing the swimmer to practice their stroke in a fraction of the space, swim spas work by generating a current strong enough to swim against while keeping the swimmer in place. There's no reaching the end of the pool and having to turn around again in a swim spa. Swim spas can be installed both indoors and out and can be used all year round, no matter their location. But does a swim spa add value to home owners? In this article we'll investigate and find out.
Property Value
Usually when asking whether something adds value to the home, it's property value that's being talked about. Will a swim spa increase the asking price for your home? There's a lot of debate amongst real estate agents when it comes to swim spas increasing the value of a property. It actually depends on several factors. The type of neighbourhood that you live in will play a large role in how the swim spa affects the selling price. If you live in a community where most houses have swimming pools, hot tubs, saunas and swim spas, your property value might suffer if your house lacks the amenities that have become standard in the neighbourhood. On the other hand, if your house is the only property in the community that boasts an aquatic recreational package, it might catch buyers' eyes and make it seem more appealing. That said, there's a fine line between standing out and appearing too conspicuous, ostentatious and expensive. Another important factor affecting property value is staging and aesthetic appeal. A well designed installation that fits in with its surroundings and is pleasing to the eye will be much more likely to create value compared to a swim spa that appears to be installed without any thought put into how it looks and harmonizes with its environment. As any real estate agent will tell you, presentation is key.
Rental Value
If you're one of the many people taking advantage of short term rentals facilitated by online platforms such as Airbnb, an amenity such as a swim spa can create outsized value for your rental unit. In today's digital social media environment, many people have begun to use their vacation time as a way to present a facade of luxury and success. A well designed and glamorously staged swim spa can not only attract more patrons, but significantly increase the amount of money they're willing to spend to stay at your property. Many short term rental specialists have found that a swim spa or hot tub can create a quick return on investment and radically improve their vacancy rate.
Personal Well Being
For the average swim spa owner, its addition into their life increases the value of their personal well being more than anything else. As our lives appear to accelerate and we spend more and more time dealing with external events, creating an oasis of calm and personal improvement becomes more important. A swim spa can be a great way to refocus your energy into your personal wellbeing. A swim spa can be a place of solitude and relaxation, a venue for personal development and a focus point for socializing with family and friends. All of these scenarios elevate inner strength, self fulfillment and quality of life.
Investment In Quality
Like most things in life, we get out what we put in. Investing in a quality piece of equipment will make it much more likely that it becomes a valued part of your lifestyle rather than something that's used a couple of times and then forgotten about because it doesn't live up to expectations. It's very easy to limit your investment from the outset and end up disappointed. But as we seem to learn over and over again, it's often best to make a sacrifice in the present to reap the benefits in the future. By spending the money on a high calibre system, it's far more likely to provide value for years to come.
SWIM SPA
GUIDE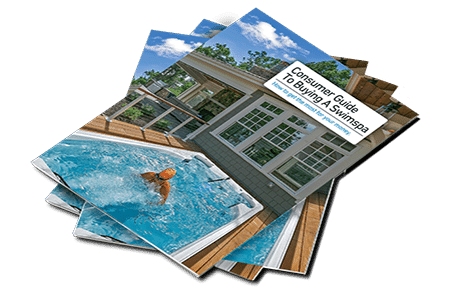 Whether it's staying active, defying stress, or combating pain, your SwimLife Swim Spa can and will help you be your best self. To help with your planning, explore our guide to assist your purchasing journey. Go a little deeper into the specs, and explore all the features and conditioning benefits of our Swim Spas. Swimlife, This is The Life!