For those of us who live in Canada, the swimming season can be mercilessly short. With the warm weather barely lasting for more than four months out of the year in some areas, it may make Canadians question the wisdom of installing an outdoor swimming pool. So what are the options for Canadian swimming fanatics who don't have access to an indoor swimming pool? Can you use a
swim spa
in the winter? It turns out that this is an absolute possibility. Because of their relatively small size it's possible to keep the water temperature high enough to prevent it from icing up during the colder months. To discover the benefits of using a swim spa year round, check out this article.
Escape The Winter Doldrums
A cold, snowy winter can be downright depressing for those who prefer swimming over skiing or hockey. And while you might be able to go down to the local recreation centre to use the indoor pool, you'll typically have to work around their schedule, not your own. A swim spa will let you swim when it's convenient for you rather than the rec centre director. There's no need to trek down to the pool, pay an admission price and deal with slow swimmers and crowds. You can simply slip out your backdoor and get in your workout whenever the urge hits. And you'll find that swimming outdoors during the winter is quite a refreshing way to exercise while beating the winter doldrums.
Soak Away The Cold
For many, one of the most surprising features of the swim spa is the ability to turn the temperature up to mimic that of a hot tub. Most swim spas can reach a peak temperature of 40 degrees Celsius which is the maximum recommended temperature for soaking in a hot tub. There's not much more magical than soaking in warm, massaging waters while a light snow falls on your head.
Vary Your Workouts
With a swim spa you're not limited to swimming. The current can be used to create resistance against your body while walking or jogging as well. You can even get underwater treadmills made specially for swim spas to enhance the walking and jogging experience. For those who prefer the full body, aerobic workout of rowing, there are rowing kits available for installation in swim spas. These easily removable kits use actual oars and a tether system to simulate the rowing experience. There are also other tether systems available that allow resistance training within the warm confines of the swim spa. Just because it's called a swim spa doesn't mean your workout is limited to a singular exercise.
Socialize With Family And Friends
Some people believe that swim spas are limited to single person use at any one time. This couldn't be further from the truth. A swim spa is larger than the average hot tub leaving plenty of room for your family and friends. Winter might be a deterrent for many to spend outdoor time with their loved ones, but a swim spa can quickly change that.
The Importance Of The Swim Spa Cover
If you want to use your swim spa year round, it's important to invest in a properly fitted, well insulated swim spa cover. Not only will this retain water heat while not in use, it will help keep the water clean while keeping out unexpected visitors such as children or pets. Whether you opt for a roll top cover or something more solid you'll want to pay attention to the insulation factor to allow for maximum heat retention during colder weather. For larger and heavier covers there are also cover lifters available which makes opening and closing your swim spa as simple as pressing a button. To learn more about winter swim spa use, download a free buyer's guide today.
SWIM SPA
GUIDE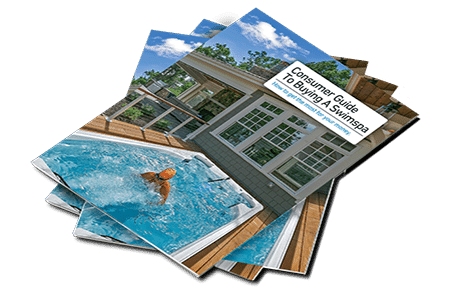 Whether it's staying active, defying stress, or combating pain, your SwimLife Swim Spa can and will help you be your best self. To help with your planning, explore our guide to assist your purchasing journey. Go a little deeper into the specs, and explore all the features and conditioning benefits of our Swim Spas. Swimlife, This is The Life!